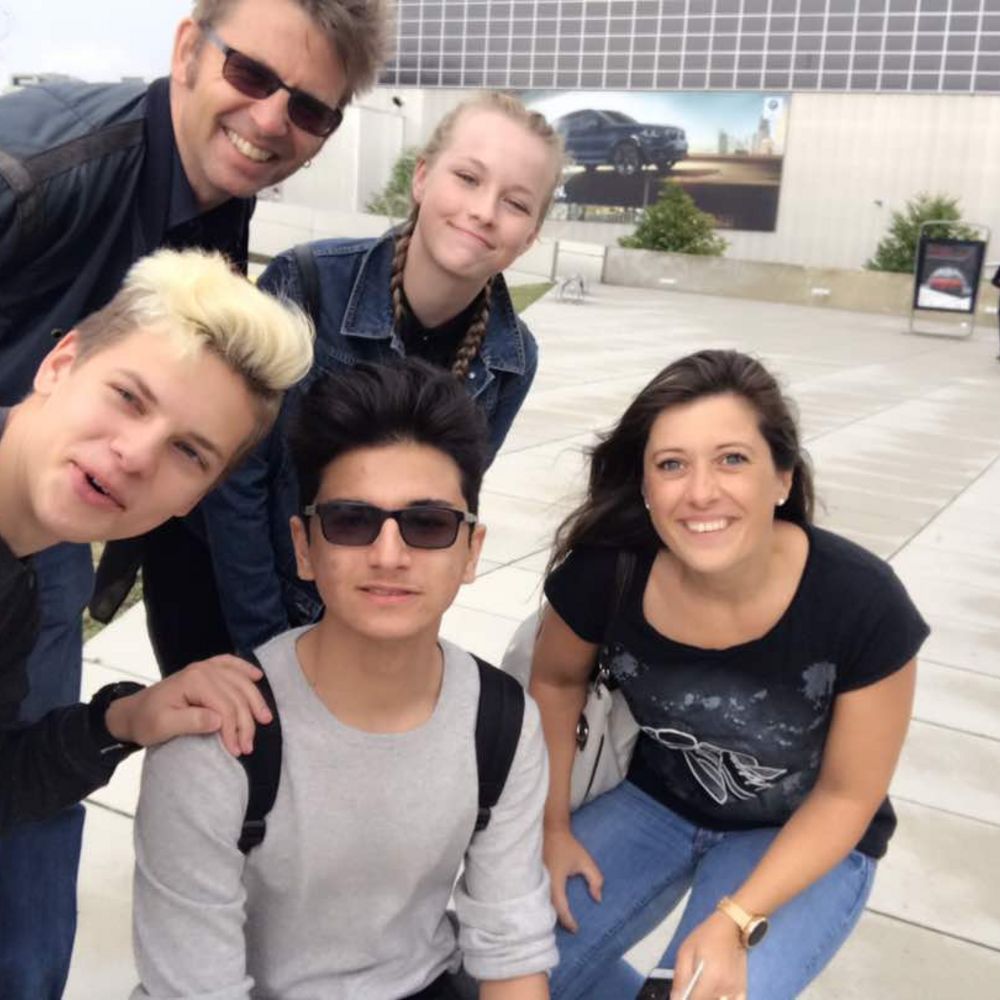 Daniela Vianna
My teacher is excellent! I am learning much faster than expected. I was going to move to 2x week, but because of his qualities, I want to continue the intensive course with him. He motivates us and teaches very useful and practical aspects of the language.

Marco Antonio Neves de Almeida from Brasil
Lernen Sie Deutsch bei inlingua: Es ist eine gute Erfahrung(Learn German at inlingua: It is a good experience)
Alfred Perin from Belgium
I was highly satisfied with my course

Anezka Valentova from the Czech Republic
Learning here was completely different from where I come from. The students work far more with one another. The teacher helped us and corrected our mistakes. My teacher explained new things very clearly.
My host mother was very nice and went to a lot of effort. She was friendly and helpful, and I'm glad I was able to stay with...

Christopher Jett, 24 Jahre, USA
The class was very immersive. I was quite impressed with the pace we progressed. Everyone has been extremely friendly here. I would like to take classes here again. Thanks for everything!

Anna Holla, 30 Jahre aus der Slowakischen Republik
eigene Bemerkung zum Kurs/ Unterricht/ Lehrer/ Schule: Super, öffentliche Diskussionen über alles, was man in der Praxis braucht. Die Lehrer haben sich auf die Schüler eingestellt. Meine Gastfamilie: ich habe bei einer sehr, sehr netten Frau gewohnt. Ich werde sie weiterempfehlen. Die Wohnung war schön, in einem ruhigen Gebiet.

Oydin Sattarov, 29 Jahre, Usbekistan
Der Sprachkurs war sehr gut organisiert. Die Themen waren sehr interessant und ich habe meine Grammatikkenntnisse auch aufgefrischt. Dieser Kurs nutzt mir viel. Ich habe einen angenehmen Aufenthalt bei inlingua in München gehabt.

Lukas Janilo, 27 Jahre, aus der Tschechischen Republik
Alles war perfekt!

Daniele Casalini, 18 Jahre, aus Italien
Der Kurs war sehr gut, auch, weil ich viele Leute aus anderen Ländern kennengelernt habe. Der Unterricht war sehr interessant, ich habe viel gelernt. Meine Lehrerin war qualifiziert und nett und die Schule ist schön. Die Jugendherberge war sehr schön und der Stil war toll. Auch die Küche war gut und die Personen waren freundlich.

Jana Soukupova, 24 Jahre, aus der Tschechischen Republik
Ich habe inlingua schon zum 2.Mal besucht und ich war ganz zufrieden. Es hat mir geholfen und ich glaube, dass mein deutsch besser geworden ist! Vielleicht komme ich im Sommer wieder aber ich weiss es noch nicht genau. Der Unterricht war sehr gut, wir haben viel Grammatik geübt, viel gesprochen, die Stunden waren toll. Der "20- Plus"...

Dan Kallo, 19 Jahre, USA
The class and teacher were excellent. She really presents knowledge in the field and knows how to reach her students. I would love to return with her as my instructor.

Can Cansu, 38 Jahre, Türkei
Ich war mit dem Unterricht zufrieden, das Gelernte lässt sich gut in der Praxis anwenden. Meine Lehrer waren qualifiziert und motiviert. Ich werde inlingua München weiterempfehlen.

Nora Patyi, 17 Jahre aus Ungarn
Ich habe mich gut gefühlt. Unsere Gruppe ist nett. Es ist interessant, neue Leute kennenzulernen. Ich glaube, die Willkommensparty ist eine gute Idee.

Marta Palombo, 17 Jahre aus Italien
München ist WUNDERBAR!!! Die Jugendherberge, in der wir wohnten, war auch sehr gut und das Essen hat mit geschmeckt.

Dimitra, 17 Jahre aus Italien
Meine Lehrerin ist sehr sympathisch und die anderen Schüler waren alle sehr nett. München ist eine schöne Stadt. Die Leute sind freundlich und es gibt viele Geschäfte.

Elisa Bertaggia, 16 Jahre aus Italien
Es war viel Spaß. Der Lehrer war gut, der Unterricht spannend. Ich habe viele neue Wörter gelernt. München ist eine große Stadt und sein Zentrum ist sehr nett. Das Wetter war leider nicht so schön, denn es hat geschneit.

Kristina Vrtikova, 16 Jahre, Slowakische Republik
München gefällt mir sehr. Die (Gast)familie war sehr nett und freundlich. Auch der Unterricht war interessant und hilft mir sehr. Ich habe viele neue Kontakte und Freunde gefunden. Und es ist sehr ggut, dass man viele neue Leute aus anderen Ländern kennenlernen kann.

Michael Starnawski, 21 Jahre, USA
The trip/ class was great. I felt more comfortable in this German Class than any other german Class I've taken. The host-family was really kind and helpful.

Klara Majdlova, 38 Jahre, aus der Tschechischen Republik
Es war sehr schön, ich bin ganz ganz zufrieden. Ich möchte nochmal kommen.

Mary Jedlicka, 19 Jahre, USA
I liked the program a lot. It was very laid back but I learned a lot. My class size was small so we all got to know each other very well. My teacher was awesome.

Sonia, 16 Jahre aus Italien
Der Kurs war gut und ich habe viel gelernt. Die Lektionen waren interessant und der Lehrer sehr sympathisch. Ich habe viel Deutsch gesprochen und hatte viel Spaß.

Cristina Casalini, 17 Jahre aus Italien
Ich fand die Stadt sehr schön. Ich möchte gerne wiederkommen, weil es ein fantastisches Erlebnis war.

Miroslav Sojka, 46 Jahre, aus der Tschechischen Republik
Die Schule ist optimal eingerichtet. Mir gefällt, dass ich meiner Familie Emails schreiben konnte. Ich war nur 2 Wochen hier. Ich war sehr überrascht, dass ich in dieser kurzen Zeit soviel gelernt habe.

Giulio Poggiaroni, 16 Jahre aus Italien
Es war sehr lustig und wir hatten viel Spaß!

Marjan Gorza, 39 Jahre aus Slowenien
Mein Lehrer, W., ist ein sehr sehr guter Lehrer. Im Allgemeinen war ich sehr zufrieden. Nur 2 Wochen sind meiner Meinung nach leider zu wenig, um alles zu machen, was die die Stadt München bietet.
Ich hatte viel Spaß in der Schule. Der Kurs war super, der Unterricht nicht langweilig.


Tom Emody, 19 Jahre, USA
My host family was awesome. Dinner time was the best because my host father told the funniest stories. Also as for the class. I learned a lot! The atmosphere and people were very fun and good.

Giulia Di Mario, 16 Jahre aus Italien
Es war toll, super, wunderbar!!! Die Schule und der Lehrer waren sehr gut, München ist schön und ich habe viel gelernt. Jetzt spreche ich besser Deutsch! Ich will hierbleiben!

Sara Nack, 18 Jahre, USA
I really liked the environment at inlingua. I wasn't afraid to say something wrong because it was a warm and open environment. I would recommend inlingua to someone who really wants to learn a language. It was very helpful.

Michael O'Toole, 19 Jahre, USA
I really enjoyed the course I learned a lot and was able to use my German skills often. The teachers were good and enthusiastic. I don't think anythings needs to be changed.

Risto Tikka, student from Finland
"Money well spent"
The number of students present in the classes was never more than 10, which was a definite advantage. I was encouraged already after my first day to change to a higher level class. This turned out to be a wise change. The teacher in both my classes were very good. They did not forget any of the students during classes.

Kristen Reid, 22 Jahre, USA
I really enjoyed my time as a student at inlingua. It was a wonderful learning environment.All of the teachers were very helpful. My host family was absolutely perfect.

Matthew Fulton, 21 Jahre, USA
Mein Lehrer war super! The school was great and I learned much from the program.inlingua is a great school and I would recommend it. It is very challenging however.

Robert Chad Campbell, 20 Jahre, USA
Our teacher was outstanding. She was kind and considerate always taking time to explain if needed. I really enjoyed the class.Everything was wonderful. My host mother was an excellent cook and I had a very comfortable place to stay.

Michael C McNulty, 20 Jahre, USA
I learned so much! Much more and much more quickly than I learned in Texas. My teacher was incredible! I really mean it. She was so helpful and she really seemed to care about our education! Thank you all so much!My host mother was great! She was such a nice and helpful host! No problems at all and she really helped me with my German!

Julio René Campos, 22 Jahre, USA
My teacher was a great instructor. Seh was extremely helpful and I learned much more German than I had at my university.Host family: Amazing place to stay. Very clean and felt like my own apartment. The food was delicious. Having an U-Bahn station right by the apartment was a huge plus.inlingua is a great school.

Tyler Dorner, 20 Jahre, USA
Our teacher was awesome! She was very helpful and friendly. I learned so much from her. She helped me having an amazing experience here.

Veronika Vascotto aus Italien
Der Sprachkurs hat mir sehr gefallen. Der Unterricht mit meinen Lehrern war sehr interessant, sodass ich auch viel gelernt habe. Der Konversationsunterricht war wunderschön, weil ich viele interessante Dinge gelernt habe.

Marketa Horholova aus der Tschechischen Republik
Ich fand den Unterricht ganz super. Wir hatten viel Spaß dabei. Nur gab es viel Grammatik.Die Lehrerin M. war sehr lieb.

Arbi Nermin
Das ist mein zweites Mal bei inlingua und ich finde die Atmosphäre wirklich gut. Die Lehrer sind sehr motiviert und man hat Spaß bei Lernen.

Daniel Tovarys aus der Tschechischen Republik
Ich war sehr, sehr zufrieden mit allem.

Anastasios Kakkavas
I would like to take this opportunity to thank my teacher, Max, for making the course interesting and pleasant. I believe that his deep knowledge and passion for his profession add to the prestige of the school.

Janet Grove
Es hat sehr viel Spaß gemacht und ich komme gern wieder

Mister R.
The last teacher I had, A., was especially good: he has excellent teaching capabilities, good humor, and can cleverly understand the needs of his students

Es war viel besser, als ich es mir vorgestellt hatte! Ich habe die Stunden sehr genossen : )Die Lehrer sind sehr freundlich und die Mitschüler sind motiviert.Das Lernklima war weit mehr als optimal.