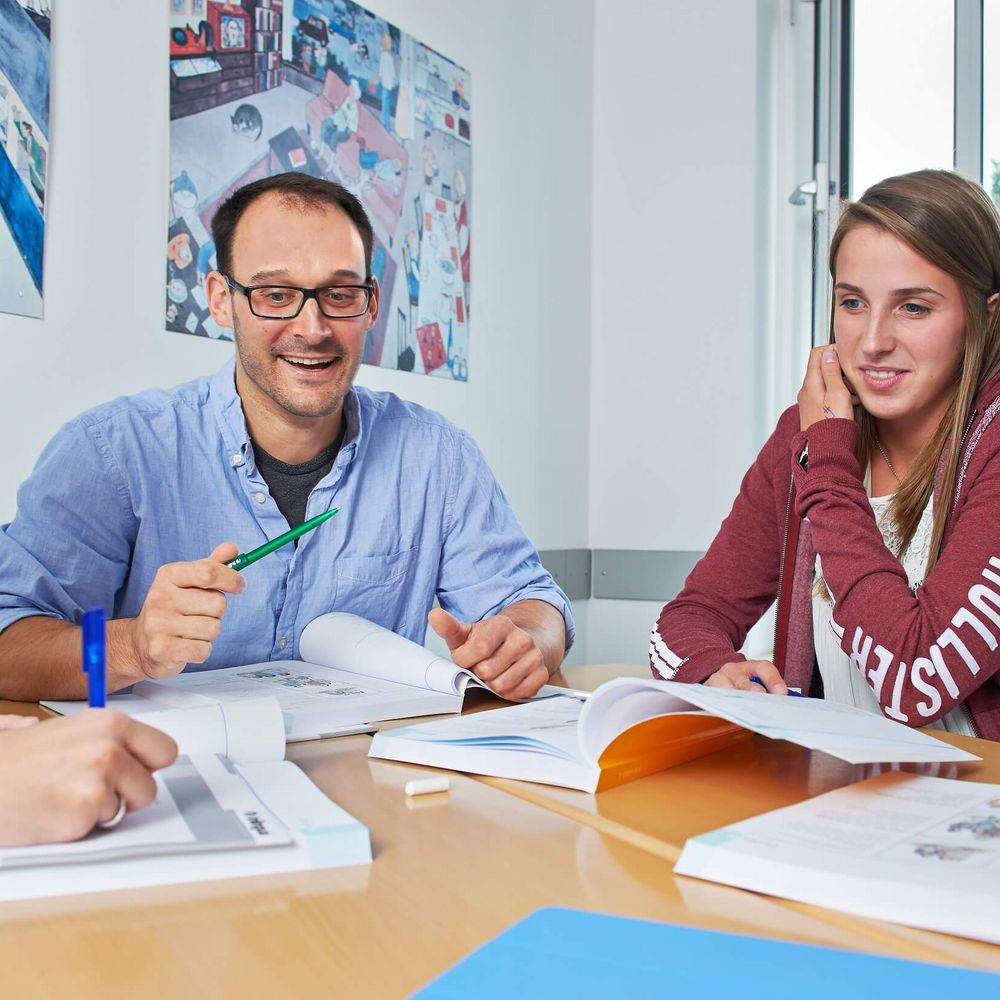 Our core strengths are the inlingua method and materials, which provide the quickest and most effective approach for all language learning objectives. The method is backed by a dedicated team of inlingua trainers and support staff, who further an enabling environment for successful language acquisition.
During our classes, the main focus is the spoken language. The inlingua Method focuses on your oral skills first, followed by improving your reading, listening and writing skills. You will learn the language by speaking it – all according to your personal needs.
Read more about the three components of the inlingua Method:
During class, only the target language will be used. You will learn the meaning of words through their context.
Another important inlingua training principle is the focus of the course on speaking and listening instead of putting you through long grammar classes. You will learn new words and grammar through active examples instead of dull explanations. Our specialized training consists of these three stages:

Presentation
During the first stage, your language teacher will introduce new topics and new vocabulary with examples and involve you in the learning process.

Practice
Practice, practice and more practice: By using your newly gained knowledge, you will learn how to form correct sentences while gaining confidence in your language and vocabulary skills - all with the help of your trainer.

Production
This is the moment when you can use the language in a creative way by acting out everyday situtations, fun role play scenarios and interestng presentations - giving the language an exciting new meaning.
With 50 years of experience, leading pedagogical experts from all over the world have been working on making the training material as great as it is today.
If you want to benefit from our exceptional language training material and learn meaningful vocabulary for everyday use or specialized needs, you will have to join the inlingua family as our material is not availble on the open market.
Better trainers make better students - this is why we work exclusively with qualified trainers who are native speakers with the ability to motivate others! Our trainers are trained through the Academy by inlingua experts in how to apply our training methods and use our specially designed material with indivuals or small groups.
Students work in a very relaxed yet productive atmopshere and are guided in the right direction by their trainer.
This is what you can expect from our trainers:

Classes adapted to oyur needs
Your trainer will make sure that you keep up with the pace.

Error corrections
No whip, no cane - our teachers will correct your mistakes and pronunciation by using a positivie approach.

Step by step
We make sure that you master a topic before we move on to the new ones.

Your opinion matters
Feel free to express yourself during the course!

Training techniques
Trainers use different techniques during their lessons in order to adopt to the variety of learning styles.
inlingua method

One of our trainers shares her insights with you in the following video